Iran shrugs off attacks from Saudi Arabia, Israel and Trump
Comments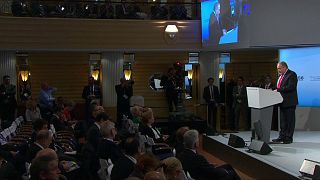 Hardly historical bedfellows, Saudi Arabia and Israel both lashed out at Iran on Sunday – signalling a growing alignment in their interests.
Iran responds very well to respect. We don't respond well to threats

Iranian Foreign Minister
At the Munich Security Conference, Israeli Defence Minister Avigdor Lieberman slammed the Iran nuclear deal.
"The Iranian deal…it's copy paste what we had with North Korea. And we see the results in North Korea," Lieberman told the conference.
"There is no doubt, if you ask…every man, every woman in the Middle East, everybody understands that Iran will be another example of the North Korean deal."
Lieberman said the ultimate aim of Shi'ite Muslim Iran was to undermine Sunni-led Saudi Arabia.
"For the first time since 1948, the moderate Arab world, the Sunni world, [...] understands..." - @AvigdorLiberman at #MSC2017pic.twitter.com/mTj0JARZF3

— Security Conference (@MunSecConf) 19 février 2017
In his speech, Saudi Foreign Minister Adel al-Jubeir denounced Tehran as a destabilising force in the Middle East and the main sponsor of global terrorism
Also under fire from President Trump's bellicose rhetoric, Iran brushed the attacks aside.
"Iran is unmoved by threats. Iran responds very well to respect. We don't respond well to threats," Iranian Foreign Minister Mohammad Javad Zarif told the Munich forum.
"Iran is unmoved by threats," said the country's foreign minister. More: https://t.co/i6B5dNi07mpic.twitter.com/ot5f5z8iUt

— The Boston Globe (@BostonGlobe) 19 février 2017
With no clear United States position on Syria, there was caution from the UN envoy to the war-torn country about the chances of success in upcoming peace talks in Geneva.
Staffan de Mistura said the February 23 talks would focus on governance, a new constitution and elections.
"If you want to defeat Daesh, we need, even if it looks complicated, even if it looks remote, a political, inclusive, credible solution in Syria and that is the challenge that we are going to face in the next few weeks," de Mistura said.
If you want to defeat ISIS, not just fight ISIS, you need an inclusive political strategy: de Mistura at #MSC2017pic.twitter.com/FVRzOwcpJq

— Kenneth Roth (@KenRoth) 19 février 2017
Questions abound over Washington's approach to ending the war, even after the first international foray by members of US President Donald Trump's foreign policy team. It remains unclear if Trump will make good on his promise to build closer ties to Russia, especially in the fight against ISIL.
"One thing I'm missing at the moment … is a clear US strategy," de Mistura told delegates.
"Where are the United States (on a political solution)? I can't tell you, because I don't know."
with Reuters