Two dozen held amid riots near Paris over alleged police rape
Comments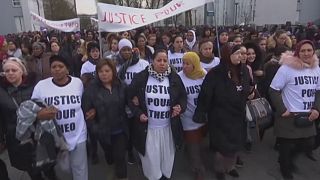 Anger over the alleged rape by police of a young man in a Paris suburb has erupted into violence for a third successive night.
Images of burning cars on the streets of Aulnay-sous-Bois were posted on Twitter by a local journalist. A police source is quoted as saying 24 people were arrested after Monday night's trouble, some of whom were armed.
#France#Update Several cars set ablaze (reports of a KFC restaurant on fire) at #AulnaySousBois Via RemyBuisine</a> <a href="https://t.co/bCyNokGhAI">pic.twitter.com/bCyNokGhAI</a></p>&mdash; José Miguel Sardo (jmsardo) February 7, 2017
Four officers have been charged with excessive violence and suspended after the strong-armed arrest last Thursday of a 22-year-old man. One is accused of using his baton to rape him. The man, who is black and has been identified as Théo, also claims he was beaten and racially abused.
The officers deny the charges against them.
The arrest was filmed by police security cameras and by local witnesses. Before he is led away to a police car, the man is seen sprawled on the ground as the officers manhandle him.
Théo is still in hospital with serious injuries to his rectum. He has been prescribed 60 days off work.
His version of the events and the film of his arrest have been published on the French news channel BFMTV's website.
The man's treatment prompted several hundred local people onto the streets on Monday afternoon near his home. His older sister has appealed for calm.
French police have in the past been accused of using excessive force in poorer neighbourhoods.
The death in police custody last summer of a young black man, Adama Traoré, in Beaumont-sur-Oise outside Paris, and the slow reaction of authorities sparked accusations of police violence and a state cover-up. An investigation is ongoing.