Residents of eastern Mosul, the part of the Iraqi city recaptured from ISIL by government forces, continue to suffer a lack of basic necessities.
Food remains very expensive because there is only one major road connecting the city to the outside world, and few people have paid work.
Aid organisations are handing out food packages to people but the need is so great that distribution sometimes descends into chaos.
There is no electricity nor running water.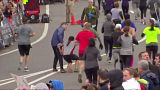 A woman close to collapsing at the end of the Philadelphia Love Run Half Marathon was given a helping hand as she approached the finish line.