The age-old practice of swaddling babies is being turned into a therapy for adults in Tokyo to alleviate posture and stiffness, mostly after giving birth.
Called Otonamaki, literally "adult wrapping", the therapy is gaining traction especially among post-natal women after taking the internet by storm.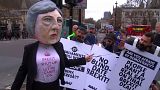 Demonstrators stage a protest outside of the Houses of Parliament ahead of the British PM Theresa May, triggering Brexit with Article 50.