If an 8-mile cross-country run on a muddy route wasn't tough enough, add a lengthy and challenging obstacle course and freezing cold muddy waters in the British winter, and you have the "Tough Guy" race.
The gruelling event in the English midlands ran its last ever edition on Sunday (January 29) after 30 years, with more than 5,500 participants from 42 countries signing up for the challenge.
Competitors sign a "death warrant" waiver to remove any responsibility from the organisers before they line-up to start the race.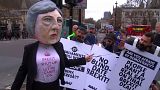 Demonstrators stage a protest outside of the Houses of Parliament ahead of the British PM Theresa May, triggering Brexit with Article 50.