'We are going to get along very well', Trump to May
Comments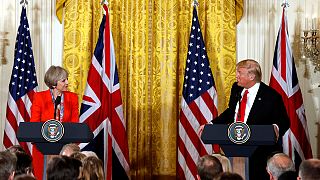 Donald Trump and Theresa May have renewed their vows to the special relationship between the US and the UK at their first joint press conference in Washington.
May said one of the things they have in common is that they both wanted to put 'ordinary working people' centre stage.
The two leaders discussed trade, Brexit, the future of the Nato military alliance and Russia.
It is a visit steeped in symbolism, the first foreign visit comes from the UK, which has chosen to leave the EU. Both want to work on a bilateral trade agreement, but May's hands are tied on any formal arrangements until the UK leaves the EU.
Speaking about Brexit, Trump said it is going to be 'a wonderful thing for your country.'
One potential sticking point between the two leaders was Nato, which Trump had previously called obsolete. May said in the press conference he is '100% behind Nato'.
On Russia, Trump remained non-committal saying it was 'very early' to talk sanctions, while May said sanctions must continue.
When asked whether the unlikely match with May will work, Trump responded, "I think we're going to get along very well."
In a sign of reciprocity for the invitation to Washington, May said that Britain's Queen Elizabeth has invited Trump for a state visit later this year.