Trump called his wife to speak at the luncheon honouring his supporters on the eve of his swearing in as the 45th U.S. President.
Melania thanked the gathering during brief remarks.
"It's great to be here, thank you all for your support," she said. "Tomorrow I`ll be starting the work. Ahead a lot of responsibility, a lot to take care of, and we will make America great again."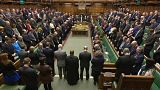 John Bercow, the speaker of the House of Commons, leads the chamber in a tribute to those who died or were injured in the Westminster attack on 22 March.