Ahead of the inauguration, as is traditional, the outgoing president and first lady received the incoming presidential couple at the White House for tea or coffee.
Given that Donald Trump has spent years insulting and criticising his predecessor and trying to delegitimise his presidency, it was never going to be the easiest of meetings, but Barack Obama kept smiling throughout.
"Mr. President-elect, how are you? Good to see you. Congratulations," Obama said as he shook Trump's hand.
The awkwardness levels rose when Melania Trump tried to shake Michelle Obama's hand as she leaned in for a hug. They eventually sorted it out, but it didn't look smooth – or heartfelt.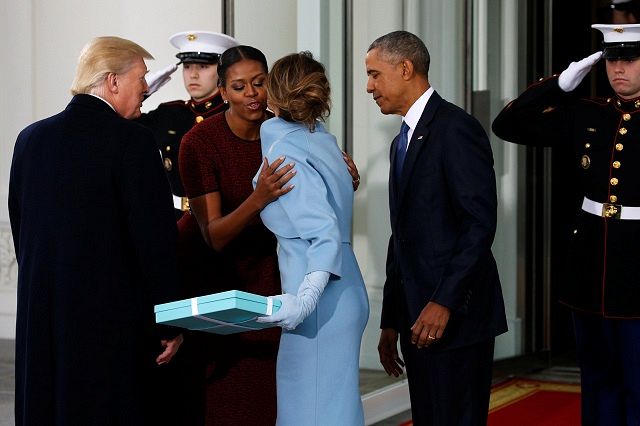 Photo: REUTERS/Jonathan Ernst
But then Melania handed a gift to Michelle – a big blue box from jewelers Tiffany & Co. – and the first lady, who seemed surprised, didn't know what to do with it. She turned around looking for someone to take it, a half-grimace on her face.
Eventually President Obama stepped in, saying "I'll take care of the protocol here" he walked inside the door behind the North Portico and handed on to an aide.
As they posed for pictures before entered the White House the ever smiling Obama said "Get used to a lot of photos".
The meeting and particularly the Tiffany box moment inevitably set off a social media flurry, with many tweets commentating and speculating.
Below are just a few:
Michelle Obama's face accepting Melania Trump's gift is worth revisiting https://t.co/LipCuzWIXo pic.twitter.com/YMSdUgpKrB

— HuffPost Lifestyle (@HPLifestyle) January 20, 2017
Melania giving Michelle her speech back pic.twitter.com/wADXYZfKrh

— ʎǝɔunɐɥɔ 🌐 (@chauncey_murphy) January 20, 2017
Michelle Obama opens Tiffany box from Melania and sees note "Take me with you. I didn't vote for Donald either. Baron is a monster. Help."

— Ad Absurdum (@_AdAbsurdum_) January 20, 2017
#InaugurationDay EXCLUSIVE view of contents inside blue Tiffany's box given to Michelle Obama by Melania Trump pic.twitter.com/jROa1upE1l

— Maggie (@fujiapplesrock) January 20, 2017
Kiss of Judas (1304-06) / Donald Trump's Inauguration (2017) pic.twitter.com/WkP3yxS3Mv

— miguel (@mcarlovincent) January 20, 2017