Thousands of people brushed up their calligraphy as they gathered and competed in the traditional Kaikizome (literally 'first writings') of the New Year on Thursday (January 5).
Similar events are also held in homes and other venues across Japan at this time of the year and are meant to help strengthen one's resolve and resolutions for the new year – regardless of the characters used.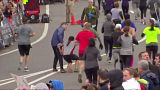 A woman close to collapsing at the end of the Philadelphia Love Run Half Marathon was given a helping hand as she approached the finish line.