French satirical weekly Charlie Hebdo has lost none of its bite, on this the second anniversary of the terrorist attack that left 12 people dead, among them some of France's best-loved cartoonists, when their offices were attacked. Already over Christmas they treated us to some of their house spirit.
Pendant ce temps-là dans la #crèche
(dessin de #Reiser – #CharlieHebdo) pic.twitter.com/Gx4HjKnLlP

— Ⓐthégriste™ ت 🔻🏴 (@athegriste) 24 décembre 2016
"Do you mind!" "It's Christmas!"
Jour 24 #reveillon demain Joyeux Noel fête des culs-bénis. Ainsi soit-il #Crèche #CharlieHebdo pic.twitter.com/BPo61sYDWG

— FernandRaoul (@fernandraoul1) 24 décembre 2016
Christmas Made in France – "Fancy some?"
"Les cadeaux de merde…dont on aimerait se débarrasser" font la Une de #CharlieHebdo signé par Felix ! #cadeauxdenoel #Trump #Poutine pic.twitter.com/Nuy3HtVQ87

— Lecteur CharlieHebdo (@CHVPSL) 27 décembre 2016
Unwanted Christmas presents
Flowers and tributes have been laid at the site of the massacre, and Charlie's second anniversary cover is typically mordant; a man looks down the barrel of a gun to the caption "2017, at last light at the end of the tunnel". Well, the new year could hardly be any worse than the last, right?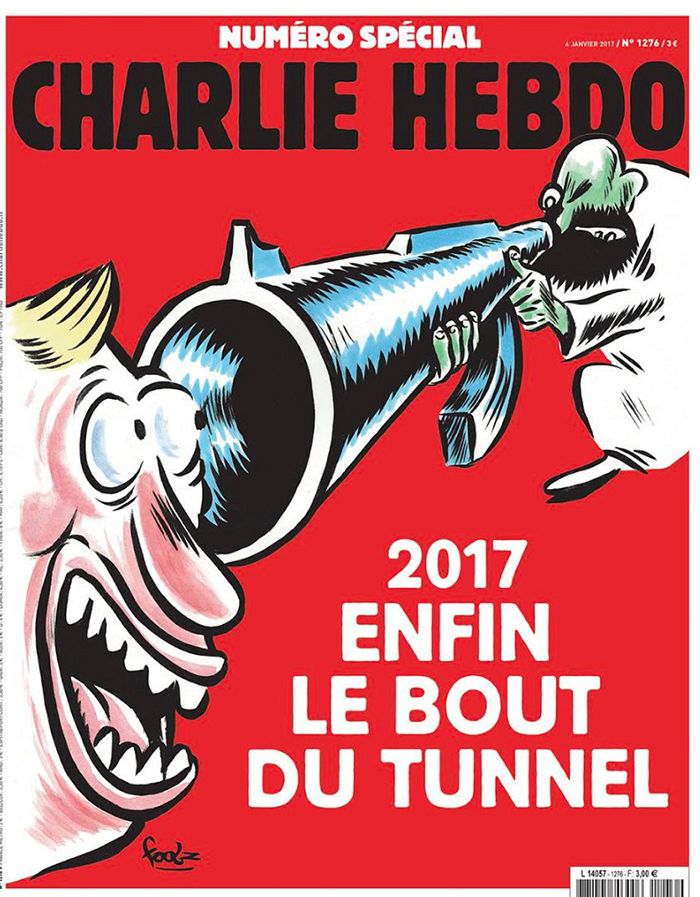 If it is, Charlie will care not, and will broadside away in 360 degrees as is the rag's wont, a defiant anti-everything stance that means it commands 100,000 weekly buyers, no mean feat in today's printed media climate.
Charlie mainstay Riss laments the fact that, two years on, people are if anything even more critical of Charlie than before, and possibly less ready to defend it if it goes out on a limb again against, say, the prophet Mohammed. Several members of staff have left since the attack following internal disagreements, but new blood has flourished.
The 2015 attack took the lives of cartoonists Wolinski, Cabu, Charb, Honoré, and Tignous Psychiatrist Elsa Cayat, Economist Bernard Maris, editor Mustapha Ourrad, journalist Michel Renaud, police officers Franck Brinsolaro and Ahmed Merabet, and office worker Frédéric Boisseau.
#Exposition Extraits du Bestiaire d'Honoré, assassiné par les terroristes le 7 janvier 2015 à #CharlieHebdo #Mairie #Paris17 #Batignolles pic.twitter.com/rpuE065bb5

— Christophe Alpha (@AlphO879) 24 décembre 2016
In their memory it appears Charlie feels honour-bound to be as fearless as in the past, but the tragedy has ensured that the paper is now fully-funded for the foreseeable future. In the immediate aftermath well-wishers donated, 260,000 people took out subscriptions, and although most did not renew after the first year sales leapt into seven figures for a while. The paper is sitting on a 10 million euro cash pile as a result, and a few weeks ago started to try and tickle the German funny bone by expanding with a new edition there.
"Sie werden unsere art zu leben nicht verändern"
"Vous ne changerez pas notre style de vie"#charliehebdo Foolz#Amri
Berlin Weihnachten pic.twitter.com/xUgQp2lgfp

— jean rossignol (@jeanrossignol) 24 décembre 2016
"They won't make us change our way of life" – First German cover from one of Charlie's new generation of cartoonists, Foolz.
Titanic et Eulenspiegel ont un nouveau concurrent en Allemagne : #CharlieHebdo. Leur réaction sur l'arrivée du Français dans quelques mn pic.twitter.com/FaW4uEX0V4

— 8e étage (@8e_etage) 21 décembre 2016
"Charlie Hebdo, what a relief!"
While much of its coverage continues to focus on domestic politics and Charlie's pet targets of the French far-right and Catholic fundamentalists, no international figure is safe from the paper's acidic pens.
Je suis pas ton père! (dessin de cocoboer</a> pour <a href="https://twitter.com/hashtag/CharlieHebdo?src=hash">#CharlieHebdo</a>) <a href="https://twitter.com/hashtag/Trump?src=hash">#Trump</a> <a href="https://twitter.com/hashtag/DarkVador?src=hash">#DarkVador</a> <a href="https://t.co/MVCajpvk7A">pic.twitter.com/MVCajpvk7A</a></p>&mdash; Haut Les Crayons ✏️ (HautLesCrayons) 9 décembre 2016
Trump is looking for a diplomatic chief – "I'd love to take you, but you're too black"
The Russians were furious at a recent cartoon that lamented the fact President Vladimir Putin was not on board the TU-154 that crashed into the Black Sea killing everyone on board. It is far from being the first time Moscow has been lampooned.
Dans le #CharlieHebdo du jour par #Riss pic.twitter.com/RxnEjVqp1i

— Ⓐthégriste™ ت 🔻🏴 (@athegriste) 21 décembre 2016
But Charlie Hebdo is about more than just scurrilous cartoons, scatology and sex. It often reserves its centre spread for long-form journalism, has several serious articles per issue, and also publishes superb special editions, cartoon records of significant contemporary events.
In the past these editions, a mixture of text and cartoon-reporting, have covered epochal things like the trial of Nazi Klaus Barbie, the plight of the homeless, the AIDS crisis, or the war in the former Yugoslavia and the war crimes trials following on from it. The latest looks at one aspect of the migrant crisis.
#CharlieHebdo le hors-série en vente pendant 2 mois. C'était #Calais sur la jungle. Edito de #Riss. Dessin de cocoboer</a> et <a href="https://twitter.com/hashtag/Foolz?src=hash">#Foolz</a> <a href="https://t.co/62yUZnxMCi">pic.twitter.com/62yUZnxMCi</a></p>&mdash; FernandRaoul (fernandraoul1) 23 novembre 2016
But nothing is scared for Charlie, including tragedy, natural disasters or probably the apocalypse itself. Gallows humour is taken to its limits by the Charlie team.
"La mort c'est toujours tabou, il faut aussi parfois la transgresser."
(#CitationDuSoir et dessin de #Riss) pic.twitter.com/BuW8VGHFjZ

— Ⓐthégriste™ ت 🔻🏴 (@athegriste) 13 septembre 2016
"Flooding in North Korea – Thousands saved by their empty stomachs"
WIth the arrival of Donald Trump in the White House on the back of a vacuous electoral campaign written off as confirming an "end of truth" heralded by the summer Brexit vote, it seems history has caught up with Charlie's wildest caricatures.
Is reality now so strange the paper will struggle to satirise an international politics already bordering on farce? Few, however, should doubt the enduring capacity of what is now the world's most famous satirical weekly to get under the skin and bring a unique take on the world's follies.