Swedish old folks' home abandons six-hour workday experiment
Comments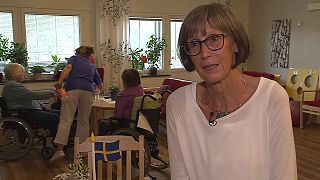 A six-hour workday experiment has been abandoned at one retirement home in the Swedish city of Gothenberg despite workers reporting better health, reduced absenteeism and improved quality of patient care during the two-year trial.
I guess we are more efficient working six hours instead of eight.
Euronews visited the Svartedalens nursing home last year. Director Monica Axhede was originally satisfied with the results of the reduced workday.
"The atmosphere is more relaxed. We have many people here who suffer from dementia. Before, when there was too much stress around, it made them very nervous. Now they are clearly more peaceful," explained Monica Axhede, Director of the Svartedalens Nursing Home.
"In addition we hired more staff, we created jobs. And we have a lot less sick leave."
Sweden: shorter workdays, happier and more productive staff? Here's the report euronews</a> filmed a few months ago <a href="https://t.co/cFKcDsMjX0">https://t.co/cFKcDsMjX0</a> <a href="https://t.co/pNu7VwHr09">https://t.co/pNu7VwHr09</a></p>&mdash; Euronews Insiders (euronewsinsidrs) January 4, 2017
For 68 nurses to change from eight-hour days to a six-hour ones, on the same salary, 17 new workers were hired at a cost of 1.26 million euros, a cost that is simply too high for Sweden's second city, where worker absenteeism and burnout are among the highest in the country.
The initiative was launched by the former left-wing majority in the municipality of Gothenburg.
But the leader of the new right-wing majority at the City Council, is strongly against extending the programme.
"We are responsible for 530,000 employees in Gothenburg," the city's deputy mayor Maria Rydentold Euronews last July. "So if we should let all these 530,000 employees work six hours and get paid for eight hours…you do the maths! We need more hands, se need more people to go to work, and we even need to work longer."
Sweden: shorter workdays, happier and more productive staff
Even though the shorter workday has been scrapped, the head of the town hall department which looks after the elderly population is convinced that the six-hour workday can be profitable over the long term.
"Looking at the public economy as a whole we create more jobs, we have a lower sick leave rate, and we have a perceived higher quality of care,"Daniel Bernmar said. "For me it's natural step to look at how we can improve the work environment and possibly get a more sustainable labour market where people work longer rather and feel better about working than they do today."
Car company revs up staff
Reducing working hours can also be profitable in the short term.
That has been the case for one car dealer and service centre in Gothenburg for almost 15 years now.
Of 112 employees, 35 of them, with the most physically demanding jobs, went from eight to six hours a day, without a pay cut.
And the centre's manager has never looked back.
"We started in 2002 because we had a long waiting time for our customers and we wanted to have a shorter waiting time," explained Martin Banck, CEO of the Toyota Centre Gothenburg.
"We have doubled the number of people in our workshops, but we have also increased our sales and our profit. It's better opening hours, and we have more customers because of that. It's a win-win for us, for the company and the customers."
Sales jumped 25 percent in the first year, before stabilising.
The cost of additional hiring was largely muted, and workers can even net bonuses for good performance.
Satisfaction levels run high.
"I guess we are more efficient working six hours instead of eight. We basically get the same jobs done, while working six hours. I've got so much time I can do many things," said Magnue Wikstrom, a technician at the Toyota centre.