Key players Russia and Turkey back Syrian peace talks
Comments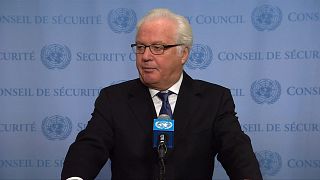 Russian backed peace talks between the Syrian government and the opposition have been penciled in for next month in Kazakhstan, if the cease-fire continues.
The proposal will bring Russia,which backs Assad and Turkey, a major anti-Assad player in the region to the table to do a deal.
#Russia-#Turkey-Iran talks on #Syria 'gleam of hope' for lasting #peace – Lawmaker https://t.co/ymO7p1bF2x#SyriaTalksozturkyilmazCHP</a> <a href="https://t.co/jzpOZMG2Xy">pic.twitter.com/jzpOZMG2Xy</a></p>&mdash; Iran (Iran) December 22, 2016
Vitaly Churkin is the Russian ambassador to the United Nations:
"So we expect the United Nations to be fully involved in the preparations of the meeting in Astana. And if they are successful they could move on to Geneva, as far as I'm concerned. So we don't see any competition there are overlapping of the two processes."
#Lavrov,MevlutCavusoglu</a> discuss implementation of <a href="https://twitter.com/hashtag/Syria?src=hash">#Syria</a> deals in phone call<a href="https://t.co/JAFTRJ7wGW">https://t.co/JAFTRJ7wGW</a><a href="https://twitter.com/hashtag/SyriaCrisis?src=hash">#SyriaCrisis</a> <a href="https://twitter.com/hashtag/SyriaNationwideCeasefire?src=hash">#SyriaNationwideCeasefire</a> <a href="https://t.co/0DuCfIDPdI">pic.twitter.com/0DuCfIDPdI</a></p>&mdash; Iran (Iran) December 30, 2016
The talks are open to all except al-Nusra and al- Qaeda affiliated groups.
Turkish Prime Minister Binali Yildirim: "It is open to everyone because this process aims to stop the fighting and killings. We don't think anyone would give their consent to see people dying for a meaningless war. Therefore any groups who are not involved in terrorism and who are in favour of peace and brotherhood can be part of this process, especially the United Nations, United States and coalition forces."
Erdogan says Saudi Arabia and Qatar should join Syria peace talks with Russia and Iran https://t.co/6gmlGvDqIepic.twitter.com/QozTA5i1DR

— Bloomberg (@business) December 28, 2016
The fresh peace impetus comes after the Syrian army regained control of Aleppo after four-years.
A victory secured in part by Russian military might.