2016 was a year rich in events that inspired the imagination of Internet users.
These are some of the memes that were created in the last 12 months.
A meme, according to the Oxford Dictionary, is a noun meaning:
"An element of a culture or system of behaviour passed from one individual to another by imitation or other non-genetic means.
"An image, video, piece of text, typically humorous in nature, that is copied and spread rapidly by Internet users, often with slight variations."
It comes from the Greek word "mimēma", for that which is imitated.
And the Oscar goes to Leonardo Di Caprio
In previous years, memes of a desperate Leonardo Di Caprio losing the Oscar after being nominated were almost an Oscars Ceremony tradition, before he finally won in 2016.
Leo waking up this morning like… #Oscars pic.twitter.com/6iBQq5mooX

—

TODAY

(@TODAYshow) 29 de febrero de 2016
So no more Leo jokes? 😂 #Oscars pic.twitter.com/W8pY2ty1gg

— Love Belfast ❤️ (@love_belfast) 29 de febrero de 2016
Full collection in The Hollywood Reporter
Lara Croft in visit to Greece
Greek food and PM Tsipras' apparent enjoyment of the Tomb Raider games and films were the focus of Greek users when Angelina Jolie came to visit.
Greek Internet Explodes with Humorous Memes Poking Fun at Tsipras-Jolie Meeting https://t.co/8g1ovd2FWi pic.twitter.com/TMTSagcdyl

— The Pappas Post (@PappasPost) March 17, 2016
The Brexit earthquake shakes Europe
One of the biggest political events in Europe this year was certain to inspire memes.
Live scenes from the Channel tunnel. pic.twitter.com/l04wXKpjaq

— John Myers (@johnmyersteam) 24 de junio de 2016
The Euro 2016 goldmine
The European football Championships were a treasure trove for meme creators:
England's defeat to Iceland
The Boateng dance
Boateng möchte eben auch mal Ballerina sein! #GERITA pic.twitter.com/3v2Y1CvVgd

— Patrik Romstätter (@buckeleskimo) 2 de julio de 2016
I'm finished 😂😂😂😂😂😂😂 pic.twitter.com/SIkm6EAfX2

— ᒪ3ᗩᕼᑭᗩᖇ (@l3ahpar) 2 de julio de 2016
Simeone Zaza didn't escape, after his spot kick:
And Cristiano Ronaldo, of course:
The internet. (Credit: JadeStamate</a>) <a href="https://t.co/xgDQgoAwmA">pic.twitter.com/xgDQgoAwmA</a></p>&mdash; TheSPORTbible (TSBible) 10 de julio de 2016
The Rio Boltympic Games
Another huge sporting event, the Rio Olympics, gave the internet much ammunition:
15 de agosto de 2016
"i don't even know why i came here" pic.twitter.com/42soqF1EA1

— Common White Girl (@girlposts) 15 de agosto de 2016
Meme celebrity gets a statue in Istanbul
Tombili, the cat who inspired a meme, died in 2016. Neighbouring residents launched a petition which garnered 17,000 signatures, and a statue was erected to honour him, at last.
A dead cat that became a worldwide meme has been honoured with his own statue in Istanbul https://t.co/dQE7s0FCMT

— EuKalyptus® (@Like_A_Dandy) 3 de diciembre de 2016
Then came the US Election
Neither candidate escaped the wrath of the internet.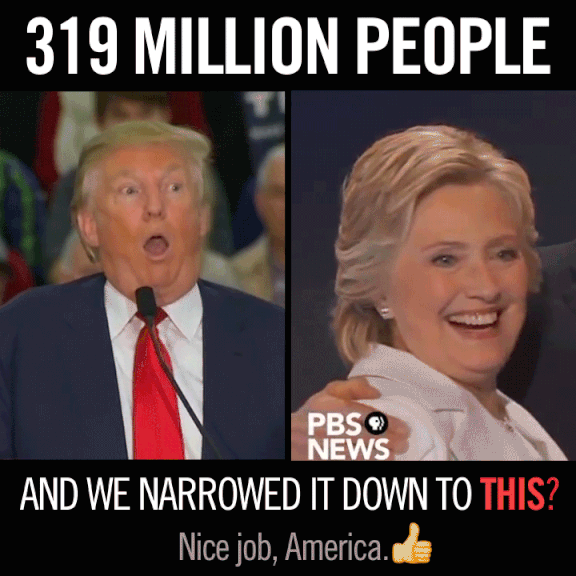 Overheard joke:

BRITAIN: "Brexit is the worse self-inflicted disaster any country anywhere ever produced!"

AMERICA: "Hold my beer."

— Gerry Conway (@gerryconway) 10 de noviembre de 2016
With Hillary Clinton
The winner, Donald Trump
Man imitates Pepe the frog at Trump rally and declines to give name, says he's "only a meme." Stays in character for whole interview. pic.twitter.com/3U8HinClaC

— Ashley Killough (@KilloughCNN) 1 de diciembre de 2016
(More on Pepe the Frog in Le Monde)
And Joe Biden. Memer in Chief
Biden: I changed the wifi password.
Obama: Joe…
Biden: It's "PssyGrbbr45" now.
Obama: No, Joe.
Biden:… pic.twitter.com/hA6ozU0Hww

— Khary Penebaker (@kharyp) 12 de noviembre de 2016
Obama went to Greece for provisions.
tsipras_eu</a> <a href="https://twitter.com/POTUS">POTUS I hope Obama had a great time in Greece 🇬🇷 🇺🇸 pic.twitter.com/k8nszOxWIW

— Spiros Lomvardos (@SLomvardos) November 17, 2016
Matteo Renzi, arrivederci
Italian PM leaves after losing the referendum on the Constitutional reform.
Renzi not the only one leaving
2016 in one picture. pic.twitter.com/yVwNMaK0ap

— The Greek Analyst (@GreekAnalyst) 5 de diciembre de 2016
People also decided to edit Donald Trump's face onto the head of Queen Elizabeth II. Because this is the internet, and because they can.