Rome and Milan tremble with new corruption allegations
Comments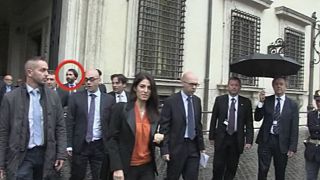 Municipal authorities in Italy's two biggest cities have come under judicial scrutiny amid corruption allegations.
Raffaele Marra, an aide to Mayor of Rome Virginia Raggi, has been arrested on suspicion of fraud in relation to a property deal dating back to 2013.
The mayor, a 5-Star Movement member, and her administration are not implicated.
Rome mayor #Raggi says sorry for misplaced trust in Marra – English – ANSA.it https://t.co/INEWgGwRAI

— JosephineMcKenna (@JosephineMcK) December 16, 2016
"Marra was already a manager of this municipality, and we trusted him. We were probably wrong, and I regret this. I apologise to the people of Rome, I apologise to the Five Star Movement and its leader Beppe Grillo, who had raised some doubts," said Raggi after the arrest.
Since capturing the capital for 5-Star earlier this year Raggi has been plagued with headaches, including resignations and infighting.
In Italy's financial powerhouse Milan Mayor Giuseppe Sala says he is stepping aside after learning he is under investigation.
There are suspicions of corruption around tender bids made for the 2015 Expo in the city.
.MarcoRobecchi</a> remembers the Tree of Life on 31/10. Tell us your memories on <a href="https://twitter.com/instagram">instagram: hashtag #MyExpoMemorypic.twitter.com/n5aN7vZHnd

— Expo Milano 2015 (@Expo2015Milano) December 5, 2015
Sala, who is a member of the ruling Democratic Party, was the expo's CEO before becoming mayor this year.
Giuseppe Sala: "Allora, miei eroi e mie eroine: è stato un vero privilegio lavorare con voi" #184giornipic.twitter.com/DRaxcVhsQi

— Expo Milano 2015 (@Expo2015Milano) December 21, 2015