At least five people have died in northeastern Bulgaria following a gas explosion after a train derailed early on Saturday.
More than two dozen others were injured by the blast in the village of Hitrino and 20 buildings destroyed when containers of liquefied petroleum gas exploded at 5:40 a.m. local time (0340 GMT).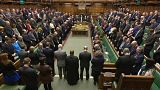 John Bercow, the speaker of the House of Commons, leads the chamber in a tribute to those who died or were injured in the Westminster attack on 22 March.