Mass grave discovery raises hopes for families of Mexico's 43 missing students
Comments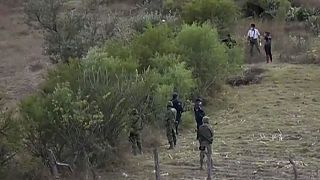 Mexican authorities have found the remains of dozens of people in a series of clandestine graves in the restive southwestern state of Guerrero, the impoverished southwestern state where 43 trainee teachers went missing in 2014.
The remains, including 32 corpses and nine severed heads, were found in a series of 20 hidden graves in the municipality of Zitlala, the state prosecutor's office said in a statement.
The grisly discovery was made after residents reported an acrid smell.
Searching for 43 Missing Students Deep Inside the 'Real Mexico' https://t.co/y4vOWwhbsY

— Tristan Delamotte (@t_delamotte) November 23, 2016
It was not immediately clear whether the remains were linked to the group of missing students who the Mexican government have claimed were abducted by corrupt police and handed over to a drug gang who killed them and incinerated their bodies.
But relatives of the young 43 men remain unconvinced by the official version of events, dismissing the government version as an attempt by authorities to close the investigation. Many refuse to give up hope that their loved ones are still alive.
More than two years after 43 students disappeared, their loved ones still seek justice and closure.
The students' disappearance led to street protests across Mexico and international condemnation of its security situation, embarrassing President Enrique Pena Nieto and plunging his administration into its biggest crisis.
Two weeks after the students disappeared, a series of mass graves containing charred bodies were discovered close to where the students went missing.
Hopes that at least some of the bodies of the missing students had been found were dashed after DNA tests proved negative.
Mexico City A protester dressed as a clown marking the disappearance of 43 students from a school in Ayotzinapa in 2014 #Photo Marco Ugarte pic.twitter.com/u4jlMkDhFO

— Inés Lalueta (@ineslalueta) September 29, 2016
Cartels are battling over drug trafficking routes in Guerrero, one of the most violent states in Mexico.
The extent to which police have been infiltrated by cartels has been a major concern in Mexico.
A large protest gathered in Mexico City to protest for the 43 missing students from Ayotzinapa, which are believed to be kidnapped. pic.twitter.com/rqCWC65Ipc

— Ruptly Stringer (@RuptlyStringer) September 27, 2016
This week marks 2 years since 43 #Ayotzinapa students were forcibly disappeared, & 2 years of #Mexico gov't failures https://t.co/NdZtQfrhiCpic.twitter.com/nbniD2oLKt

— Michael Bochenek (@MichaelBochenek) September 28, 2016