New York City street performer Robert John Burck, aka The Naked Cowboy, performed a song in the lobby of Trump Tower, transforming some of the president-elect's campaign promises into lyrics.
"Trump's going to build a wall, that wall is going to protect us all, sounds like a good idea to me," he sang while strumming a guitar clad in his usual scant costume.
After the song concluded he turned his back to a crowd of onlookers and media and lifted his robe to reveal the word 'Trump' printed on the back of his underwear.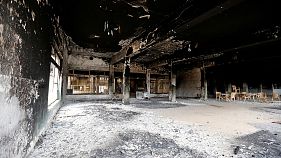 Iraqi special forces battled ISIL militants to take control of the Mosul University campus.