Mexico City has been glowing amid a series of light projections and installations, for the city's third annual International Festival of Lights, FILUX.
There were 17 light displays around the city, including projections on key buildings, such as the Palace of Fine Arts.
Visitors were also encouraged to take part in an interactive performance, using bunches of luminous bracelets.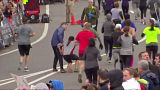 A woman close to collapsing at the end of the Philadelphia Love Run Half Marathon was given a helping hand as she approached the finish line.