Donald Trump's victory in the U.S. presidential election was celebrated on Wednesday (November 9) in his wife Melania's tiny hometown Sevnica, in southeast Slovenia.
Many followed the closely contested election overnight at a local bar and showed pride as Trump's victory over Democrat candidate Hillary Clinton was announced, showing pride as one of their locals would become the new First Lady of the United States.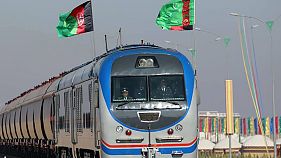 The presidents of Turkmenistan and Afghanistan on Monday officially opened a new railroad that will link the oil-rich former Soviet republic with Afghanistan.