Brazil's former finance minister is arrested
Comments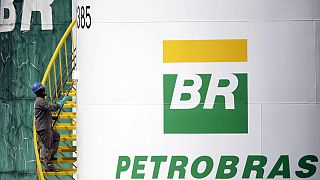 Police in Brazil have arrested the country's former Finance Minister Guido Mantega.
Federal police say they took Mantega into custody at the Albert Einstein Hospital in Sao Paulo.
Sources say his wife was due to have surgery.
His lawyers have not so far responded to requests for comment.
A statement from prosecutors said police executed warrants for eight arrests and 32 search and seizure operations in five states and the capital, Brasilia, on Thursday.
Just in: Former finance minister Guido Mantega arrested in Brazil https://t.co/72K7zX3wIUpic.twitter.com/ck7HD1mtqj

— Financial Times (@FT) September 22, 2016
Who is Guido Mantega?
Mantega is Brazil's longest-serving finance minister of the past 70 years.
He was also chairman of Petroleo Brasiliero, or Petrobras as it is more commonly known.
The state-run oil company is at the centre of a wide-ranging corruption scandal.
Why is the arrest significant?
Observers are taking it as a sign that a sweeping corruption investigation is closing in on the inner circle of the leftist Workers Party leadership, who ran the South American country for 13 years.
Mantega's arrest comes just two days after a judge decided to put former President Luis Inacio Lula da Silva on trial for allegedly accepting more than one million dollars in bribes from an engineering firm in the Petrobras scandal.
Mantega was finance minister for almost nine years under Lula and the recently-impeached former President, Dilma Rousseff.
#Brazil's former finance minister Guido Mantega arrested, charged with fraud, money launderinghttps://t.co/NnLuk6frCbpic.twitter.com/1vHUHjr5PZ

—

UPI

.com (@UPI) September 22, 2016
"Operation X Files"
As well as the former finance minister Mantega, the prosecution statement said the engineering groups Mendes Junior and OSX Construção Naval SA, part of a commodities empire built by former billionaire Eike Batista, are under the spotlight.
Police have named the latest phase of the sweeping two-year Petrobras probe "Operation X Files" in reference to the letter X that Batista included in the names of his oil drilling, mining, shipbuilding and logistics companies.
Prosecutors say Batista has testified to a conversation in November 2012 in which Mantega requested payment of the equivalent of 2.5 million US dollars to benefit the Workers Party.