Four people smugglers arrested in Egypt after migrant boat capsizes
Comments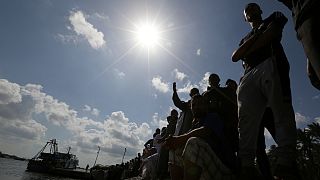 Four suspected people smugglers have been arrested in Egypt after at least 42 people were killed when a boat carrying hundreds of African migrants capsized off the Egyptian coast.
Rescuers said they had saved just 160 people. Hundreds more are missing, feared drowned.
Families have been waiting on the quayside in the town of Rasheed for news on their missing loved ones.
"The green boat you're seeing got here with 12 dead bodies on board," said an Egyptian man who had lost a family member. "They were recovered using fishermen's nets. We're going back with some families to continue searching; even fishermen are volunteering in search and recovery operations."
Survivors from the capsized #migrant boat off #Egypt told us about 550 were crammed on board, 70 below deck. pic.twitter.com/wbeDN7vAIb

— Orla Guerin (@OrlaGuerin) September 22, 2016
Since early spring, hundreds of people aboard rickety boats have been rescued and intercepted by the Egyptian coastguard.
A growing number of migrants are willing to pay astronomical sums of money to smugglers to make the dangerous journey from Egypt to Europe.
"I lost two of my sons," said another Egyptian. "They left the country because of the lack of job opportunities as well as the tough living conditions. We've been standing here since yesterday, the local families are bringing us pity food … The people smugglers make no sense. They load hundreds of migrants in a boat that can barely take a handful!"
The UN High Commissioner for Refugees says migrant boats departing from Egypt account for about 10 percent of arrivals to Europe.
The trip usually include several perilous transfers at sea.
43 confirmed dead as boat carrying 600 refugees capsizes in Egypt https://t.co/2UoHgSV85Zpic.twitter.com/YlE2jheklI

— Ruptly (@Ruptly) September 22, 2016
Euronews correspondent Mohammed Shaikhibrahim said: "The drowning incident highlights the increasing number of migrant boats from Egypt, carrying Africans and Syrians escaping war and conflicts, besides the thousands of eager Egyptians looking forward to better jobs and improved lives."
Egypt becoming departure country
More than 10,000 people have died attempting to cross the Mediterranean for Europe since 2014, according to the United Nations, reported the Agence France-Presse (AFP) news agency.
Asylum-seekers have been seeking other ways to reach Europe since last year's preferred route from Turkey to the Greek islands was largely shut down when Balkan countries closed the popular overland route.