A government campaign to boost the slowing fertility rate in Italy has met with a chorus of criticism from those who say it is offensive and ignorant of the problems it is trying to address.
The Italian Health Ministry has made this September 22 the country's inaugural "Fertility Day", an event designed to encourage Italians to have babies. To put this initiative in a demographic context, Italy has an ageing population (and one which actually declined last year for the first time in decades) and its birth rate is lower than ever before and below the EU average
BIRTH RATES IN SELECTED EU COUNTRIES (live births per woman)
The campaign comes complete with public meetings in major cities, a website, hashtag (#fertilityday), an online game in which users can choose to be an egg or a sperm and, perhaps most controversially, a billboard campaign featuring 12 posters which have been pilloried for their awkwardness and insensitivity.
"we don't need feminism" they said #fertilityday pic.twitter.com/Ya5lHko1FS

— Haveyoumetila? (@haveyoumetila) August 31, 2016
Take for example two posters whose messages seem to be "Hurry up and have kids now before it's too late."
There's the one in which a woman holds forth an hourglass alongside the slogan "Beauty has no age. But fertility does."
#fertilityday Donna e ovociti:la vita fertile della donna https://t.co/KRLTQHasYT pic.twitter.com/1aCjPicTzI

— fertilityday (@FertilityDay) August 9, 2016
And one, apparently directed at those Italian adults who are confused about the actual reproductive process, which reads "Hurry up! Don't wait for the stork."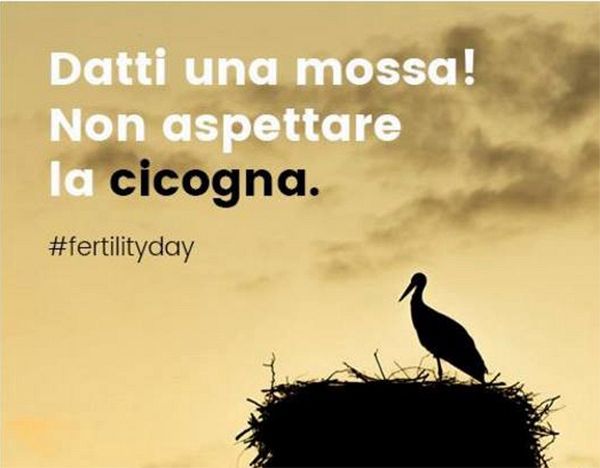 Critics of the campaign have been at pains to point out that there is more than just the biological clock involved in the decision to start a family. There are, for example, economic factors. Like jobs and money, which are not exactly in abundant supply right now for young people in Italy. Youth unemployment stands at 36.9% in Italy (the EU's third worst performer) and without a long-term work contract, there is no paid maternity leave.
altro che #fertilityday… vogliamo scegliere se e quando fare figli, liberi dal ricatto della precarietà pic.twitter.com/64Ww4StJXI

—

ACT

! (@act_agire) August 31, 2016
"my pregnancy lasts much longer than my work contract"
---
Sorrynotsorry 🌈 #fertilityday pic.twitter.com/UPKCYfMiHj

— bæthlyn; (@malfoyseyes) September 1, 2016
"Go abroad and find a job"
---
più che del #fertilityday avremmo bisogno di politiche a sostegno del diritto all'abitare… pic.twitter.com/COFeTKw5JL

—

ACT

! (@act_agire) September 1, 2016
"We would gladly deliver you your baby, but you don't have a house"
---
Italian writer Roberto Saviano was among those who took exception to the Health Ministry's efforts. On
his Facebook profile
he took apart the arguments point by point and calls the initiative a waste of time and public money. All that is left of it, he argues in a dry observation of the Fertility Day logo, is a confused sperm trying to impregnate a heart.
---
Even Italy's Prime Minister Matteo Renzi has distanced himself from the campaign of his Health Minister Beatriz Lorenzin. He recognised in a radio interview that "If you want to create a society that invests in its future and has children, you have to make sure the underlying conditions are there." He also admitted "I don't have any friends who had children after seeing an advert".
Italian writer and Journalist Giulia Blasi likens the campaign to the ideals of the fascist regime in the 1920s and '30s. In
an article
which also slams Italy's track record on fertility and the government's ability to do its own job she says:
"It's the stuff of dystopian novels and fascist propaganda, something Benito Mussolini was quite good at in times when contraception was unavailable and women did not have the right to vote, much less work outside the home."
It is a view being shared by many others on social media, where the response to being told to "Go Forth and Multiply" seems to be a big "Well, F*ck You, too!"
Back in the Ventennio con il #fertilityday pic.twitter.com/ivV1kASLeG

— Pietro Niro (@niro_pietro) September 1, 2016
#fertilityday is pure fascist renewal. Pushing women to have a family ASAP and saying a woman's uterus is A COMMONG GOOD?
I'm so disgusted.

— Thewomaninred (@Thewomaninred1) September 1, 2016
Fascism called, it wants its policies back. #fertilityday

— Nerys (@_laNerys) August 31, 2016
The #fertilityday campaign is offensive, sexist and dangerous. I'm ashamed and embarrassed

—

SHINEEWORLDV

👑 (@sciainii) September 1, 2016
As a woman I feel personally offended by this and as an Italian citizen I'm ashamed and embarrassed right now. #fertilityday

— ele. (@noralsel) August 31, 2016