More than 70 dead and many missing after strong earthquake hits central Italy
Comments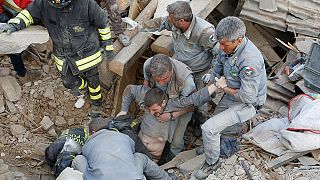 More than 70 people are reported to have been killed in a powerful earthquake that devastated a string of mountainous towns in central Italy on Wednesday.
The magnitude 6.2 quake, which struck in the early hours of the morning when most people were asleep, toppled buildings and trapped residents under piles of rubble.
Thousands of people have been left homeless.
Roads have also been buckled, making the emergency response even more difficult.
The epicentre of the quake was at Rietti near the city of Perugia.
The tremor was felt some 170 km away in Rome and was followed by around 60 strong aftershocks.
A family of four, including two boys aged 8 months and 9 years, were buried when their house in Accumoli imploded.
As rescue workers carried away the body of the infant, carefully covered by a small blanket, the children's grandmother blamed God: "He took them all at one," she wailed.
Aerial photographs showed whole areas of Amatrice, voted last year as one of Italy's most beautiful historic towns, flattened by the 6.2 magnitude quake.
Where did the earthquake strike?
Government response
The army was mobilised to help with special heavy equipment and the treasury released 235 million euros (265 million US dollars) of emergency funds.
The national Civil Protection Department said some survivors would be put up elsewhere in central Italy, while others would be housed in tents that were being dispatched to the affected areas.
Affected area 'very touristic'
Euronews reporter Gardenia Trezzinni, who is in Rome, said the areas affected are part of an historic region – popular with visitors at this time of year.
"The earthquake happened in the intersection of four regions in the centre of Italy. Lazio, Umbria, Marche e Abruzzo, in a triangle between Perugia, Ascoli Piceno and Rieti. The worst damage seems to be around Rieti," she explained.
"The affected area is a historic region, with little villages, very touristic in the summer.
"These towns double their population in July and August. It's not an area with large buildings.
"Most of the damage is affecting houses in the historic centres, houses built from stone.
"The major difficulty at this point for the rescue and emergency teams is getting to the historical centres due to roads being blocked by debris."
Reaction
Italian Prime Minister Matteo Renzi said that he would visit the disaster areas.
"No-one will be left alone, no family, no community, no neighbourhood. We must get down to work… to restore hope to this area which has been so badly hit," he said in a brief televised address.
At the Vatican, Pope Francis cancelled part of his general audience to pray for the victims, saying that he was "deeply saddened" by the disaster.
Picture gallery
Live updates