'Half of the hamlet was destroyed': euronews speaks to Italy earthquake survivor
Comments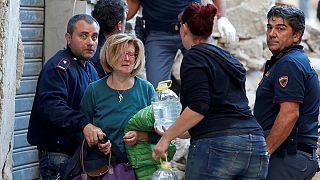 Thousands of people are believed to have been displaced as a result of the earthquake in Italy.
There were so many people under the rubble, they didn't know how to rescue them.

Earthquake survivor
It hit what has been described as an historic area, with many old buildings destroyed Some have lost their homes, others were luckier. Euronews' Sabrina Pisu spoke to 'quake survivor Silvano Micozzi. The Rome resident was staying at his holiday home, near Accumoli, when the tremor struck.
Silvano Micozzi
"I was in the hamlet of Poggio d'Api, near the village of Accumoli. At 3.36am the earthquake knocked me and my wife out of bed. Thank God our house is 'quake proof and withstood the tremor. Some hours later we left Poggio d'Api and drove through the hamlet of Illica. And we saw that at least half of the hamlet had been destroyed. It was shocking. We were there at 11 am and there were still no Civil Protection Agency workers or firefighters there. There were just two ambulances which were trying to take someone away, but there were so many people under the rubble, they didn't know how to rescue them."