Trial begins in Germany of "ISIL fighter" accused of mutilating a corpse
Comments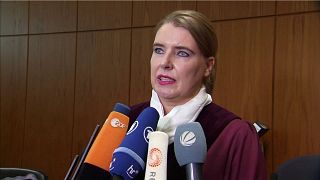 The trial has begun in Frankfurt of a German man accused of being a member of ISIL and of taking part in the mutilation of a body while on Syrian soil.
The 30-year-old who is can only be refered to by his first name Abdelkarim. E for legal reasons, is said to have gone to Syria for weapons training.
Carola Bitter is the Federal prosecutor in the case:
"With ISIL he was primarily involved in a combat unit. Beyond that he is accused of committing war crimes. There are concrete facts available that combatants mutilated the body of an opposition fighter: they cut of the ears and the nose. The accused filmed this event with his mobile phone and gave an injurious commentary."
Along with being accused of membership in a terrorist organisation abroad, Abdelkarim is also accused of making arrangements for an act of violence.
He was originally arrested in February 2014 in Ankara. He had previously tried to give his girlfriend a pipe bomb to take to Germany, but this failed due to Turkish security checks. The accused was later transfered to Germany. The woman is currently facing separate charges in another court.
The German defence team led by Oliver Gorski questions whether mutilation of a corpse constitutes a war crime.
"We entering new legal territory in the code of crimes against international law. In the opinion of the defence, the desecration of a corpse in Syria is not indictable."
Abdelkarim denies the charges claiming he was in Syria for several months driving an ambulance. However if he is found guilty he faces up to 10 years in jail.