Lucky escape from flash floods in China
Comments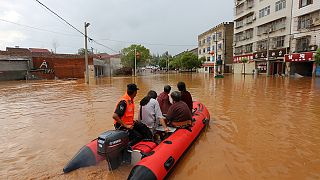 China has again been battered by nationwide severe storms.
Nearly 60 millimeters of rain fell in just three hours in Yulin City, in the north west.
Flash floods swept away vehicles including a car which by chance slammed into a bus
That meant the three occupants could be rescued. They were pulled to safety from their vehicle and through a window of the bus.
Rain is forecast for the region until August 19.
Major flooding has forced the evacuation of more than 3,500 people from Miyun, just north east of Beijing.
The mountainous area, which is a popular tourist destination, is facing further rain with the risk of landslides.
State media said more than 1,500 rescue personnel have been sent to help with the operation and evacuees had been taken to temporary housing facilities.
So far, there have been no official report of casualties.
There are also flood warnings out for Bejing's Pinggu and Fangshan districts.