Now Reading:
Turkey's anti-coup protests in 360-degree video
This is the atmosphere at one of Turkey's regular anti-coup gatherings, shot in 360-degree video at Istanbul's symbolic Taksim Square.
Turkish president Recep Tayyip Erdoğan called on Turks to take to the streets after the failed coup on July 15, to 'defend democracy'.
They have become nightly protests across the country.
Taksim Square was the scene of anti-government protests in the summer of 2013.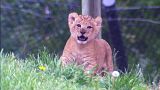 The first lion cub born at the Dallas Zoo in 43 years has made her first scheduled public appearance on Friday (19 May).