Vatican condemns 'barbarous killing' of priest in French church
Comments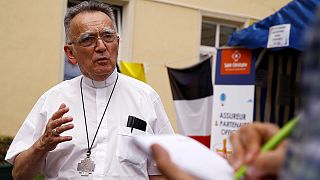 The Vatican has condemned what it called the "barbarous killing" of a Catholic priest with a knife in a French church.
A Vatican spokesman said Pope Francis was feeling "the pain and horror of this absurd violence" and "condemned in the most radical way any form of hate."
"We're [standing] close to the French Church, Rouen dioceses and all French people. The fact that this attack had happened in a church, a priest was killed – who's ministring God's love and preaching to the parish, – strikes us very profoundly. This offence in a holy place is something very terrible for our sensibility, and religious sensibility."
Two assailants killed the priest and seriously wounded a hostage before being shot dead by police.