Munich: police rule out ISIL link
Comments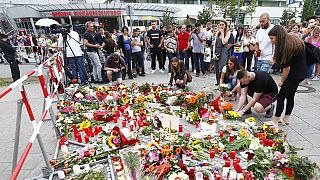 No link to

ISIL

identified – police
10 dead, 27 wounded
Attacker had an "obsessive interest with mass shootings*


Police in Munich say Friday's shopping centre shooting has no connection with ISIL.
Ten people were killed in the attack, the majority under 20. 27 were wounded, ten of them seriously.
He seems to have had an obsessive interest in mass shootings
Giving updates at a press conference in the German city on Saturday, Police Chief Hubertus Andrae said a search of the attacker's apartment has not uncovered any extremist material.
"On the basis of our investigation there is no indication of a connection to ISIL. What we did find were documents relating to mass shootings. He seems to have had an obsessive interest in mass shootings," he told reporters.
Officers stressed the attack, which came five years to the day after Anders Behring Breivik gunned down 77 people in an attack in Norway, was not connected to the issue of refugees or immigration.
Those who died
Ten people were killed in the shooting spree, which began around 6pm local time.
Two 15-year-olds
Three 13-year-olds
One 17-year-old
One 19-year-old
One 20-year-old
One 45-year-old
The attacker died of self-inflicted gunshot wounds, police have said.
The attacker – what we know
18 year old student
Born and raised in Munich
German-Iranian national
No criminal record
Had been having psychiatric treatment

The attack – more details
Glock 9mm handgun used
Serial number had been filed off
Attacker was carrying 300 rounds of ammunition
The Olympia Shopping Centre
Public transport, which was shut down during the alert, has now reopened.
However, stations serving the Olympia Shopping complex remain closed.
The complex itself and a Mcdonald's restaurant nearby remain closed while investigations are ongoing.
There area near #OEZ remains locked down. Waiting for police to publish more about perpetrator. #Muenchendwnews</a> <a href="https://t.co/lHyApnNPNf">pic.twitter.com/lHyApnNPNf</a></p>&mdash; Oliver Sallet (salleto) July 23, 2016