Turkish soldiers deny involvement in coup plot, told it was a 'drill' - report
Comments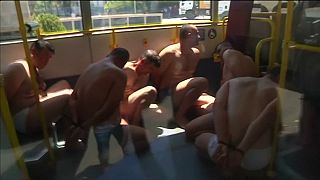 Amid the spate of arrests and interrogations following the 15 July failed coup in Turkey, some soldiers have claimed that they initially had no idea that they were taking part in a plan to overthrow the government.
According to a report in Turkish newspaper Hurriyet, several soldiers have said that they had been told that they would be taking part in a military drill, and that it was only when people began to climb onto the tanks that they realised they were involved in a coup attempt.
The Hurriyet article, published on the newspaper's English-language website on 17 July, read:
"Student soldiers in Istanbul's Kuleli Military High School were also reportedly taken to streets by their commanders, who claimed it was for a drill. They seized weapons of police officers in the Cengelkoy police station. An armed conflict erupted and 10 people were killed. Special operations police officers later raided the school and detained many students.
"In addition, soldiers at Istanbul's Ataturk Airport said in their initial testimonies that they thought they were on a drill, but later realised it was a coup when people climbed onto their tanks."
[picture of the day] A man lies in front of a tank to oppose in an effort to stop soldiers #TurkeyCoupAttemptpic.twitter.com/WR2ygLU5rz

— euronews (@euronews) July 16, 2016