Exchange rate woes as UK votes for Brexit
Comments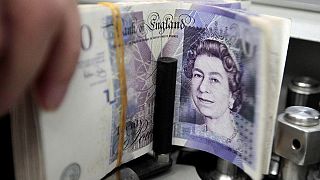 On the morning after the UK referendum vote to leave the EU, the British pound plunged to its lowest level since 1985.
Business owners have been anxiously waiting to see how the exchange rate drama plays out.
Small and Medium Sized Enterprises (SMEs) are the lifeblood of the British economy.
Opinion among small business owners has been sharply divided over whether Brexit would be good or bad for business.
Euronews visited London-based SME International Private Finance, which employs 10 people.
The mortgage broker organises loans for people buying homes on the continent, many of which are in France and Spain.
Simon Smallwood, Joint Managing Director of International Priave Finance, says: "The biggest concern (of Brexit) is the changing exchange rate, because that's the thing that impacts buyers' decisions most quickly."
The turmoil on the financial markets more generally is also a cause for concern.
"Obviously, how that plays out in the coming weeks and months will have a big impact on how businesses in the UK and in the eurozone are able to recover from the result that they weren't expecting," Smallwood tells euronews.
For businesses – large and small – the uncertainty surrounding Brexit is troubling.
Smallwood said his firm had taken a big hit in the run up to the referendum – with new business down around 50 percent over the last few months, since the referendum was announced.
The company has been preparing though, building up reserves in order to prepare for the possibility of a Brexit victory,
So, Smallwood says he remains positive about the company's future, despite the challenges.
Whatever changes Brexit brings, British people will still have the desire to buy homes on the continent, he says.