Pistorius removes prosthetic legs in court
Comments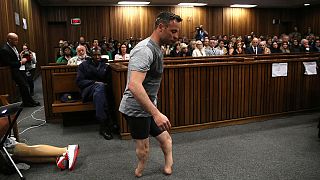 Seen by many as a desperate last bid for leniency for murdering his girlfriend Reeva Steenkamp, South African athlete Oscar Pistorius has removed his prosthetic legs and hobbled in court.
Sobbing in front of the judge, the double amputee's defence team argued he was a vulnerable man.
Pistorius' lawyer Barry Roux insisted no purpose would be served by sending him to prison.
Earlier, Reeva Steenkamp's cousin Kim Martin also told the court she did not believe the Athlete's girlfriend loved him.
The latest dramatic scenes in Pretoria follow Tuesday's emotional plea by Ms Steenkamp's father Barry who urged the judge to hand out a lengthy sentence.
The hearing is reconsidering Pistorius's sentence after he was found guilty of murder, overturning an earlier verdict of manslaughter.
The 29-year-old shot his girlfriend in the early hours of Valentine's Day in 2013 after firing four times through his bedroom toilet door.
The sprinter faces a minimum jail term of 15 years for the killing, though that could be reduced by mitigating factors and time already served.