German-Turkish war of words intensifies after 'genocide' vote
Comments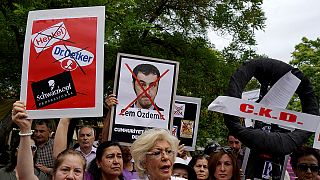 Turkey's Recep Tayyip Erdogan has been rebuked by Germany's lower house of parliament for his harsh condemnation of members of Turkish origin who voted to declare the 1915 massacre of Armenians by Ottoman Turkish forces a "genocide".
President Erdogan said they had "tainted blood" that should be tested in a laboratory, triggering outrage from the Bundestag's Speaker Norbert Lammert.
"I wouldn't have thought it possible that in the 21st century, a democratically elected president would link his criticism of democratically elected lawmakers in the German Bundestag to doubts about their Turkish descent and describe their blood as tainted," he told deputies.
Erdoğan blasts 'tainted blood' of many, including German MPs https://t.co/chcFXCfsN7pic.twitter.com/Dmj3UsX3Sv

— Hürriyet Daily News (@HDNER) 9 juin 2016
German Chancellor Angela Merkel joined in the applause in the chamber on Thursday although she was absent when parliament passed the genocide declaration last week.
MPs of Turkish descent who backed it have been subjected to a stinging social media campaign with death threats reported and at least one of them receiving police protection.
Germany is home to a large ethnic Turkish community and is also an important trade partner for Turkey.
Ankara, a key ally in tackling Europe's migrant crisis, rejects the idea that the killings of Christian Armenians during World War One amounted to a genocide.