Obama promises cooperation on Okinawa investigation
Comments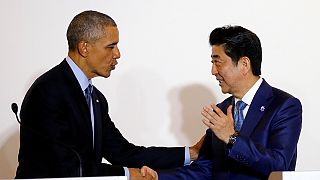 US President Barack Obama has touched down in Japan, the last leg of his Asian tour ahead of the G7 summit.
Though political priorities include free trade, South China Sea disputes and defence cooperation, the trip is steeped in historical symbolism. Obama will become the first sitting US president to visit Hiroshima. Although he made clear he will make no formal apology for the use of the atomic bomb. He told Japanese TV NHK, "in the midst of war, leaders make all kinds of decisions, it's a job of historians to ask questions and examine the".
At a press conference on the eve of the G7 summit he added that the trip would "honour all those who were lost in WWII and reaffirm our shared vision of a world without nuclear weapons as well as highlight an extraordinary alliance that we have been able to forge over as many decades."
What survivors, veterans of 1945 atomic bombings in Japan say about President Obama's visit to Hiroshima. https://t.co/MtOFbZCXhO

— The Associated Press (@AP) May 23, 2016
Another historical issue courting controversy is the American military presence on Okinawa island. Just over a week ago, a US marine allegedly raped and killed a local woman, sparking outcry.
Obama said Washington will fully cooperate with Japan's investigation to ensure justice is done, saying "I extended my sincerest condolences and deepest regrets."
Okinawa hosts the bulk of US forces in Japan, and many associate the bases with crime, pollution and noise. The rape of a Japanese schoolgirl by US military personnel in 1995 sparked huge demonstrations.