Armenian and Azeri leaders back truce over disputed Nagorno-Karabakh
Comments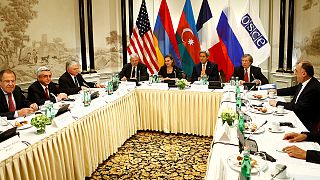 The presidents of Armenia and Azerbaijan have agreed on the need for a ceasefire and a peaceful resolution to the conflict over disputed Nagorno-Karabakh.
A spirit of compromise is said to have emerged from talks in Vienna sponsored by Russia, France and the US.
The meeting was the first between Armenian President Serzh Sargsyan and Azeri President Illham Aliyev since a dramatic flare-up in violence between Armenian-backed separatists in Nargono-Karabakh and Azeri forces last month which killed dozens of people.
It has been reported from the talks that both sides wish to hold more discussions in June and in the meantime monitor and strengthen a crumbling 1994 ceasefire agreement.
The conflict between ethnic Armenians in landlocked Nagorno-Karabakh and Azerbaijan, in which the region lies, remains one of "post-Soviet Europe's "frozen disputes".":http://www.huffingtonpost.com/samuel-ramani/why-vladimir-putin-wants-_b_9741618.html
In 1988, towards the end of Soviet rule, Azerbaijani troops and Armenian secessionists began a bloody war which left the de facto independent state in the hands of ethnic Armenians when a truce was signed in 1994.
Last month the 1994 truce was shattered when Azerbaijan's army and Armenian-backed separatists in Nagorno-Karabakh exchanged fire using artillery, tanks and rocket fire.
Portrait of a soldier in Mataghis. A picture I took a few days ago in Nagorno-Karabakh. #KarabakhNowpic.twitter.com/qfcO3G2q5P

— Simone Zoppellaro (@S_Zoppellaro) May 16, 2016