North Korea stages mass rally in Pyongyang
Comments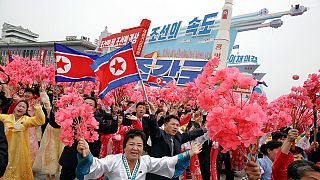 North Korea has marked the end of its first ruling party congress in 36-years with a mass rally in Pyongyang.
There were extraordinary scenes in the capital's main ceremonial square as hundreds of thousands of North Koreans took part in the celebrations led by the country's leader Kim Jong Un.
The tightly choreographed event saw huge crowds marching alongside giant floats with cardboard replica missiles.
The four day Workers Party Congress saw Kim elevated to the role of party chairman. It also endorsed the national policy of expanding the country's atomic arsenal in defiance of the United Nations, though such arms will only be used if North Korea is threatened with similar weapons.
Hit by sanctions following the country's nuclear and missile tests, the Congress also pledged a five-year plan to revive the economy.