Turkey: Erdogan 'expected to tighten grip'
Comments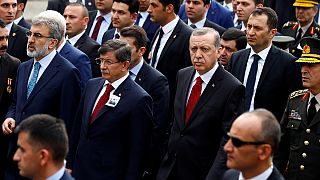 Turkey's Prime Minister Ahmet Davutoglu announced his intention to step down as AK Party leader on Thursday, ending mounting speculation over his future. Euronews' Nezahat Sevim spoke to our Turkish correspondent Bora Bayraktar on the latest political developments in Turkey.
Nezahat Sevim: "The AK Party has decided to hold a extraordinary congress to chose a new leader.. This congress, on the 22nd May, will see Davutoglu's leadership come to an end. What does this change mean for Turkey, Turkey's government and the party itself? Let's discuss this further with our correspondent in Istanbul, Bora Bayraktar. Bora, why did Davutoğlu decide to step down? What is the feeling right now in AK Party?''
Bora Bayraktar: ''The last couple or weeks, especially, there's been tension between the President and Prime Minister over several issues. There have been some signs that the president would like to work with a Prime Minister who is closer to him. The biggest rift between them, according to sources close to the president, was that when Davutoglu was picked to be Prime Minister, he promised to work on two key areas. The first was to put a presidential system in place, get public backing for that and implement the necessary constitutional changes. On several occasions the Prime Minister has repeatedly argued that it would be better to do this over the long-term. Second, the President has been waiting to see more progress on the crackdown against individuals connected to his exiled rival Fetullah Gülen, regarded by the government as a terrorist structure. Sources say the President was not satisfied with the progress made on this issue.''
Nezahat Sevim: ''What will happen to the government and AK Party now? How will the new party leader, and as we understand it, the new Prime Minister be chosen?''
Bora Bayraktar: ''There will be an extraordinary party congress. It appears after talking with Erdogan, they will agree on a name. Essentially, who the president believes is the closest to him. They will then put this name forward for nomination at the Congress. After that the party leader will be chosen. Davutoglu will step down as Prime Minister and the President will then ask the party's new leader to form a new government. This is expected to give the president a stronger grip on the party and more control over the government allowing him to lead more cabinet meetings.''
Nezahat Sevim: ''What kind of changes can we expect in the AK Party and in government policy? Can we expect any changes?
Bora Bayraktar: ''I don't think we will see big change. Turkey has been governed by this party for nearly 14 years. The current policy framework in Turkey, which has been in place since 2002, will most likely be kept with guidance from Erdogan. It also doesn't look like we'll see mass resignations or splits in the AKP. The way Davutoglu's offered to stand down was key to this. Perhaps supporters of Davutoglu inside the party may have resisted him being forced out. But they seem to have accepted it willingly.''
Nezahat Sevim: ''Thank you.''
Bora Bayraktar: ''Thank you.''