Heat to meet Raptors in NBA Semis
Comments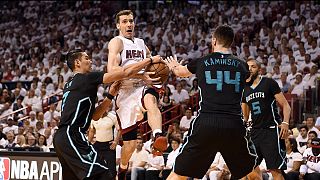 Miami Heat have taken the Eastern Conference of the NBA and sail into the semi-finals
after mauling the Charlotte Hornets in their seventh deciding play-off game.
They will take on Toronto in Canada on Tuesday where the blood is still fresh on the parquet after the Raptors finished Indiana's chances of a semi-final place.
On the night in Miami the visitors' two stars, Walker and Jefferson failed to gel, scoring only 13 points between them, as Miami took an early first-quarter lead they never looked like losing.
For the Heat Goran Dragic scored 25 as the Slovenian rose to the occasion of his first-ever game seven, while Whiteside, Green, Wade and Deng all scored double figures.
Once again the Heat have lived up to their reputation as supreme finishers. Give them a sniff of a win, and they will take it. Toronto beware.