Russia will not ask Syria to halt air strikes on Aleppo
Comments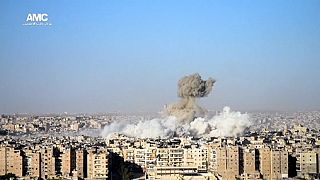 Media reports claim Russia will not try to persuade Bashar al-Assad to call a halt to air strikes on Aleppo.
The bombardment of Syria's second city continued on Saturday.
Nearly 30 strikes hit rebel-held areas of the city – the ninth straight day that Aleppo has been targeted by government forces.
The Russian Deputy Foreign Minister Gannady Gatilov reportedly told the Interfax news agency that the actions of the Syrian government in Aleppo are part of the the fight against a terrorist threat.
In what it claimed was a bid to salvage the wider truce the regime did temporarily cease its offensive around Damascus and parts of the northwest coast province of Latakia.
Since the war started Aleppo has seen some of the fiercest fighting. The city is divided between rebel and government-held zones and taking full control would be seen as a huge prize for President Assad.
"There is no justification for appalling acts of violence deliberately targeting hospitals & clinics in #Aleppo." https://t.co/p1t3ZSHR05

—

ICRC

(@ICRC) April 30, 2016