Tensions flare in Syria as peace talks limp on
Comments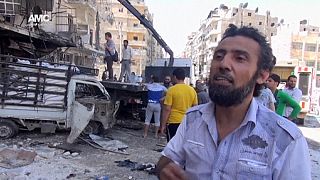 An amateur video has emerged purporting to show chaos in Syria as fragile peace talks limp on in Geneva.
A clip posted on social media claims to give an eyewitness view of a bomb attack by government planes on the rebel-held town of Douma, near Damascus.
The Syrian Observatory for Human Rights (SOHR) says at least 23 people were killed and the death toll is expected to rise.
The upsurge in fighting has prompted the opposition to announce a halt in peace negotiations. Most of its representatives left the Swiss talks by the end of the week (April 22).
"They tell you the regime and the Russians have precise targeting. There are no aggressors here, only civilians. They are killing civilians. […] The aim is to kill people in any way or form," said one local resident, said to be in Anadan.
Moscow says its planes have not participated in any military operations in recent days.
The British-based SOHR claims bombings have also been carried out in parts of Aleppo Province. Dozens of civilians have been reported killed since Friday (April 22), including at least one child.
Nearly 561,000 ppl in besieged, hard-to-reach & other cross-line
locations were reached w/ humanitarian aid in 2016. pic.twitter.com/0WJCWTJQ1n

— OCHA Syria (@OCHA_Syria) April 21, 2016