No casualties reported after huge chemical blaze in Jiangsu, China
Comments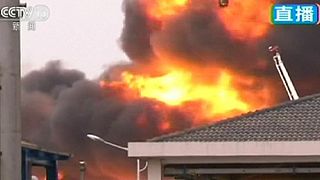 At least 90 fire engines and 500 firefighters struggled to put out a blaze at a chemical storage facility in China's eastern Jiangsu province.
State media reported the building caught fire after an explosion earlier in the day.
Authorities said there were no casualties.
China has vowed to improve industrial safety standards after chemical blasts in the Chinese port city of Tianjin last August killed 165 people.