Ecuador quake search enters third day as hopes fade of finding survivors
Comments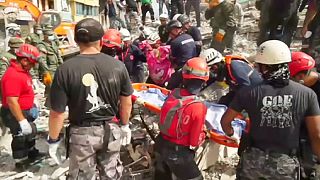 Rescue efforts following the earthquake in Ecuador have moved into a third day amid warnings that there is little hope of finding more people alive.
The official death toll stood at 413 on Tuesday. Hundreds more are missing and the number of victims is expected to rise significantly.
The quake has injured at least 2,600 people according to the government which said some 18,000 were in emergency shelters. More than 1,500 buildings have been damaged.
However there was a moment of relief in Portoviejo in the west of the country as a man was pulled alive of a collapsed hotel on Monday.
From the rubble he had apparently managed to call a relative who then alerted rescuers.
Saturday's 7.8-magnitude earthquake struck along much of Ecuador's Pacific coastal region.
In what remains of the town of Manta, one emergency team working furiously to find survivors pulled a small white dog to safety after detecting signs of life amid the rubble of a flattened concrete building.
The worst damage has been reported in the coastal town of Pedernales. The surrounding province has been declared a disaster zone.
Access has been limited due to damaged infrastructure, especially the roads.
Most of those who died – at least 366 – were in this town.
Desperate families have been pleading with rescue teams to find their relatives – but time is fast running out.
In many isolated towns and villages, survivors are struggling without water, power or transport.
Ecuador's President Rafael Correa has said that the quake could hit the country's Gross Domestic Product (GDP) by about two or three percentage points.
On Monday he visited the disaster zone, saying rebuilding would cost billions of dollars.
Nearly 400 rescue workers have flown in from various Latin American neighbours, along with more than 80 specialists from Spain and Switzerland, to boost rescue efforts. The United States was also due to dispatch a team of disaster experts while Cuba was sending a team of doctors.
My friend Carlos has been living in #Ecuador the last two years. He wrote this on his experience from the weekend. https://t.co/lac2fjuulZ

— Gerrit De Vynck (@GerritD) 19 April 2016
Want to support victims of the #EcuadorEarthquake? Click here to find out how you can donate: https://t.co/H4yU3MaSSjPNUDEcuador</a></p>&mdash; UN Development (UNDP) 18 April 2016