Panama Papers probe focuses on the President of Azerbaijan and his family
Comments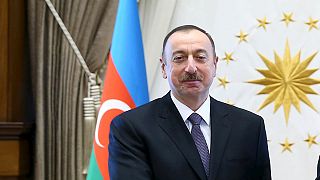 Among the world leaders the Panama Papers probe has focused on are the financial dealings of the President of Azerbaijan Ilham Aliyev and his family. They allege the president, who has been in power since 2003 and his wife Mehriban have built an offshore empire.
The website of the International Consortium of Investigative Journalists devotes a page to the Aliyev family where several members are named in relation to a complex web of offshore companies which passed through Panama.
The leaked documents show that in 2003 months before the presidential election the tax minister Fazil Mammadov began to create AtaHolding which has since become one of the country's biggest conglomerates.
He subsequently invited President Aliyev's family to join him. AtaHolding has interests in the country's banking, telecommunications, construction, mining, oil and gas.
According to the files the tax minister created two entities through Mossack Fonseca named FM Management Holding Group SA.
The second was a foundation – called UF Universe Foundation. The files show that two years later Aliyev's wife, Mehriban became one of two managers of the foundation. The Management Holding Group in turn owned shares in a United Kingdom based company. It, according to the files held 51 per cent of shares in AtaHolding Azerbaijan. In 2014 its value was estimated at 490 million dollars.
According to the Panama Papers and investigations by journalists of the Organised Crime and Corruption Reporting Project, nine years ago the president awarded a consortium of six gold mines to several companies including two in offshore jurisdiction.
They belong to the president's two daughters, Arzu and Leyla Aliyev. The papers revealed the sisters held 56 percent of shares of Globex International LLP and Londex Resources S.A. which accounted for 11 and 45 percent of the shares of the consortium of six gold mines.
The Aliyevs did not respond to repeated requests for comment from the Organised Crime and Corruption Reporting Project.
The Press Secretary of the president did get back to euronews after a request for a reaction to the information in the leaked documents.
The statement reads: "It's known that President Ilham Aliyev before his political career was a successful businessman. His business was transparent and legal. And after he became the leader of the country, Mr. Aliyev stopped all his business activities. He doesn't have any offshore companies. All the accusations about it are groundless. As far as some of his relatives are concerned their businesses are also absolutely legal and transparent."