Residents flee Congolese capital after post-election violence
Comments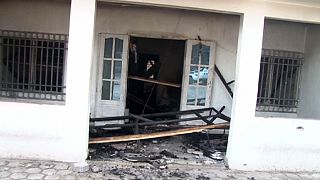 Thousands of people in the Congolese capital of Brazzaville are said to be fleeing the latest violence which has broken out linked to last month's reelection of President Denis Sassou Nguesso.
Former members of the "Ninja" militia have been blamed for attacks on government buildings – the group fought the president in the 1997 civil war.
One man who was leaving with his family said, " There was shooting, heavy weapons. In any case, we couldnt sleep. It all started at 3am and we couldnt sleep."
Troops deployed in Congo-Brazzaville https://t.co/JYHlbxMEJJ

— Ivan Saputra ☀ (@Ivantastics88) April 4, 2016
The unrest comes after Sassou Nguesso, who has ruled the oil-producing central African country for 32 of the past 37 years, won a third presidential term in a poll that the opposition says was marred by massive fraud.
Opposition leader Guy-Brice Parfait Kolelas, whose father led the Ninjas during the civil war, came second in the election. The Ninjas signed a peace accord with the government in 2003 after years of sporadic clashes, though rivalries persist along regional and ethnic lines.