Ice hockey: Homeless Donbass win Ukraine Championships
Comments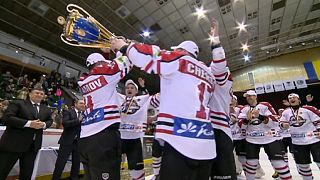 Ice hockey star Serhiy Varlamov signed off his illustrious career by winning the Ukrainian Championship with Donbass following a best-of-seven final series victory over the Generals from Kiev.
Varlamov and his teammates won the first four games of the final to celebrate a whitewash of their opponents.
It was the fourth domestic league title for the club.
What makes this title more special than the others is the fact that the Donetsk-based team have been forced to play their home games at neutral sites since their home rink was destroyed in the conflict between pro-Russia separatists and Ukraine.
In March 2014 separatists set parts of the arena on fire and have been in control of the area ever since, which has left the once-European powerhouse team homeless and broke.