Thousands of children descended upon the White House, on Monday for the annual Easter Egg Roll. President Barack Obama and First Lady Michelle Obama welcomed "Frozen" star Idina Menzel onto a balcony of the White House to sing the national anthem, before heading onto the South Lawn.
The theme of this year's event is "Let's celebrate." The first lady said she wanted to celebrate families and the nation in what will be the couple's last Easter in office.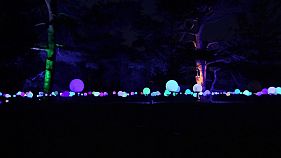 Flaming torches, yuletide carols, singing trees and lasers are all being deployed by the Royal Botanical Gardens at Kew in London.