ICC World Twenty20: Hosts India secure semi-final spot with victory over Australia
Comments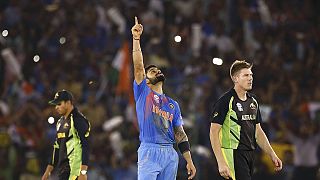 Hosts India have set up a semi final with West Indies after beating Australia by six wickets in their final ICC World Twenty20 Group Two game in Mohali.
Australia batted first and raced to 50 from only 22 deliveries.
But India's bowlers kicked into action and eventually restricted the 2010 runners up to 160-6.
Virat Kohli was in devastating form at the crease for the host nation.
Kohli superbly led the chase hitting 32 runs from the last 11 balls as he finished with an unbeaten 82 runs.
MS Dhoni smashed the final runs to secure victory with five balls of their 20 overs spare – a result that sent the cricket-mad home crowd into wild jubilation.
India will now meet West Indies in the last four of the sixth edition of the tournament in Mumbai on Thursday a day after England face New Zealand in the other semi final in Dehli.