ISIL release propaganda video celebrating Brussels bombings
Comments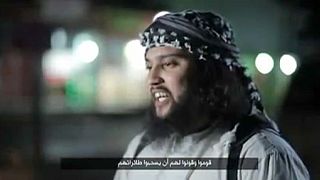 Self-styled Islamic State militants have followed up their initial claims of responsibility for the Brussels bombings with videos gloating over the atrocities.
The move follows a similar pattern over November's attacks in Paris, when claims via the internet were followed by propaganda videos.
One of the videos features two Belgian militants, speaking in French apparently from northern Iraq. One of the men makes what seems to be a call for an end to strikes against ISIL in exchange for peace.
For one expert in terrorism in the name of Islam, it is the first time that ISIL does not limit itself to threats. However researcher Romain Caillet told Belgium's Le Soir newspaper that it was difficult to detect a shift in the extremists' message.
The videos have been released at a time when ISIL is losing ground in Iraq and Syria. In Europe too the counter-terrorism operation has been gaining momentum following the Brussels attacks.
The latest arrests in the Belgian capital on Friday, like another earlier near Paris that was said to have foiled an imminent terrorist plot, prompted President Hollande to say the network behind the attacks in both capitals was being destroyed , although others still posed a threat.
Belgian authorities have established the most direct connection between the attacks on both capitals. According to the federal prosecutor, DNA showed one of the Brussels bombers, Najim Laachraoui, helped make suicide vests used in Paris.
In Brussels, thousands again turned out on Friday night to pay tribute to the victims of the latest attacks that killed 31 people and injured hundreds. But there is much public anger over security lapses that failed to intercept the perpetrators.
Reports from Washington say the two brothers among the suicide bombers were both on a US counter-terrorism watch list. Reuters says Brahim El Bakraoui – who attacked Brussels' Zaventem Airport – was on the list before the November attacks in Paris. The name of his brother Khalid – identified as a Brussels metro bomber – was added shortly afterwards, sources told the news agency.