A video created by amateur cyclist Raffael Lehmann captured a bike race down a snow covered mountain in Switzerland from his perspective. Lehmann said he created the video by strapping a camera to the side of his helmet before he took part.
With a starting height of 3500 m (11482 ft) the race has the highest starting point for any mountain bike downhill race in the world.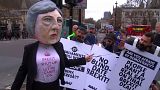 Demonstrators stage a protest outside of the Houses of Parliament ahead of the British PM Theresa May, triggering Brexit with Article 50.