A video created by amateur cyclist Raffael Lehmann captured a bike race down a snow covered mountain in Switzerland from his perspective. Lehmann said he created the video by strapping a camera to the side of his helmet before he took part.
With a starting height of 3500 m (11482 ft) the race has the highest starting point for any mountain bike downhill race in the world.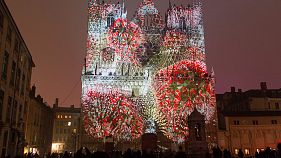 Thousands of people have attended Lyon's famous Festival of Lights amid high security.