'Trump and Sanders' make appearance at World Puppetry Day
Comments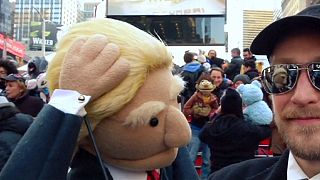 New York's Times Square has been transformed into a giant stage for the internationally-celebrated World Puppetry Day.
Monsters, dinosaurs and Muppets turned up in the Big Apple in an effort to boost interest in the art form.
There were also political overtones. Puppet versions of presidential hopefuls Bernie Sanders and Donald Trump took time out of their campaign schedules to appear at the event.